DAILY FITNESS PLANNER - Training Log and Food Journal
Your entire fitness program in one visual snapshot.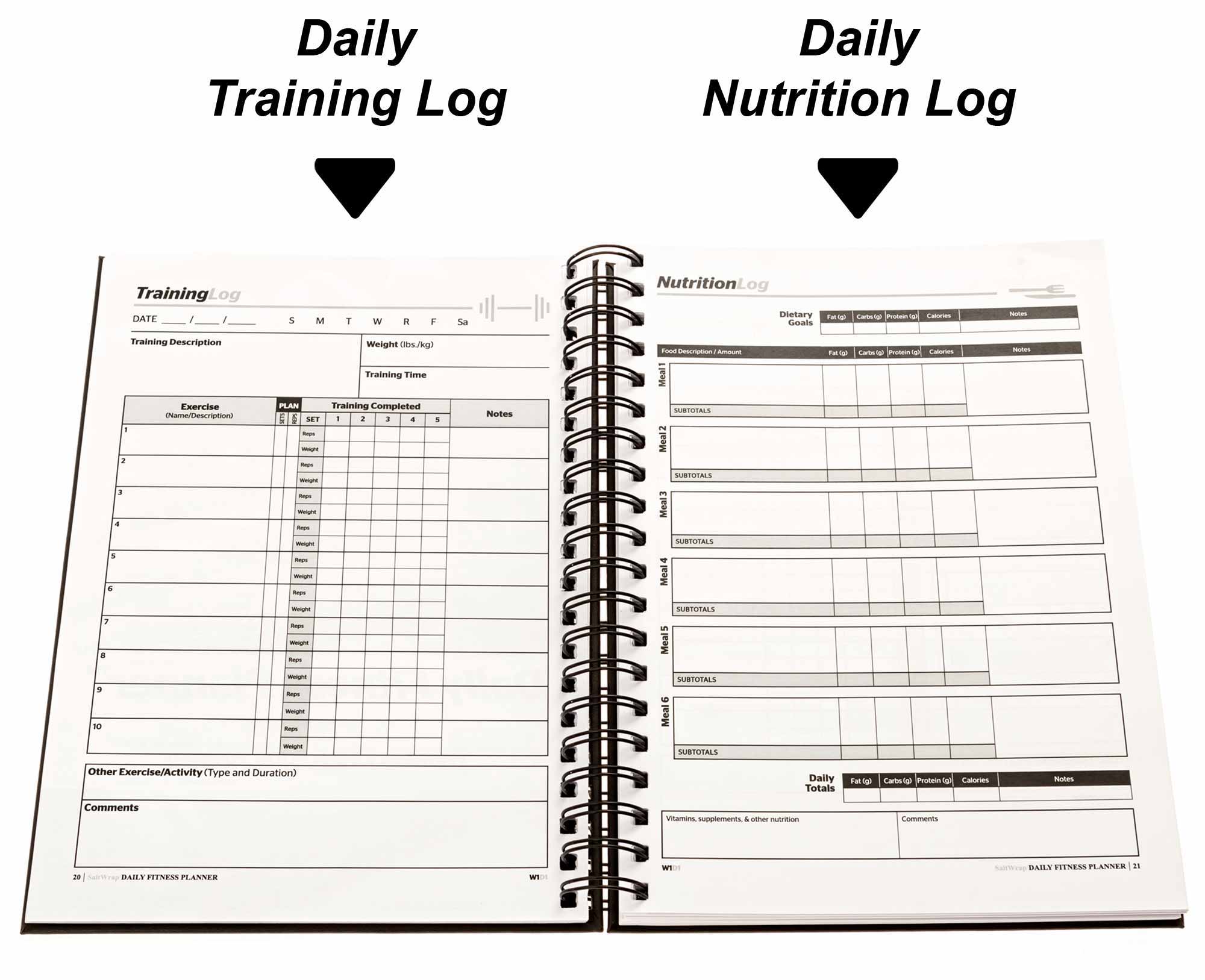 Weekly planner.
Goal tracker.
And personal
accountability partner.

In short... it's everything you need to accomplish your fitness goals.

Whether you want to lose weight, build muscle, improve strength and performance—or just be healthier.
The SaltWrap Daily Fitness Planner™ allows you to plan, track, AND improve.
It's more than just a training log and food journal.
It's a way for you to ensure progress. To maintain focus on incremental improvement. And have a historical reference that you can use to learn from.
In addition to daily and weekly planning pages, the goal tracking templates keep you focused. The intuitive, minimalist design makes it simple to fill out. And it's the perfect size to take with you, fitting easily into a bag or purse.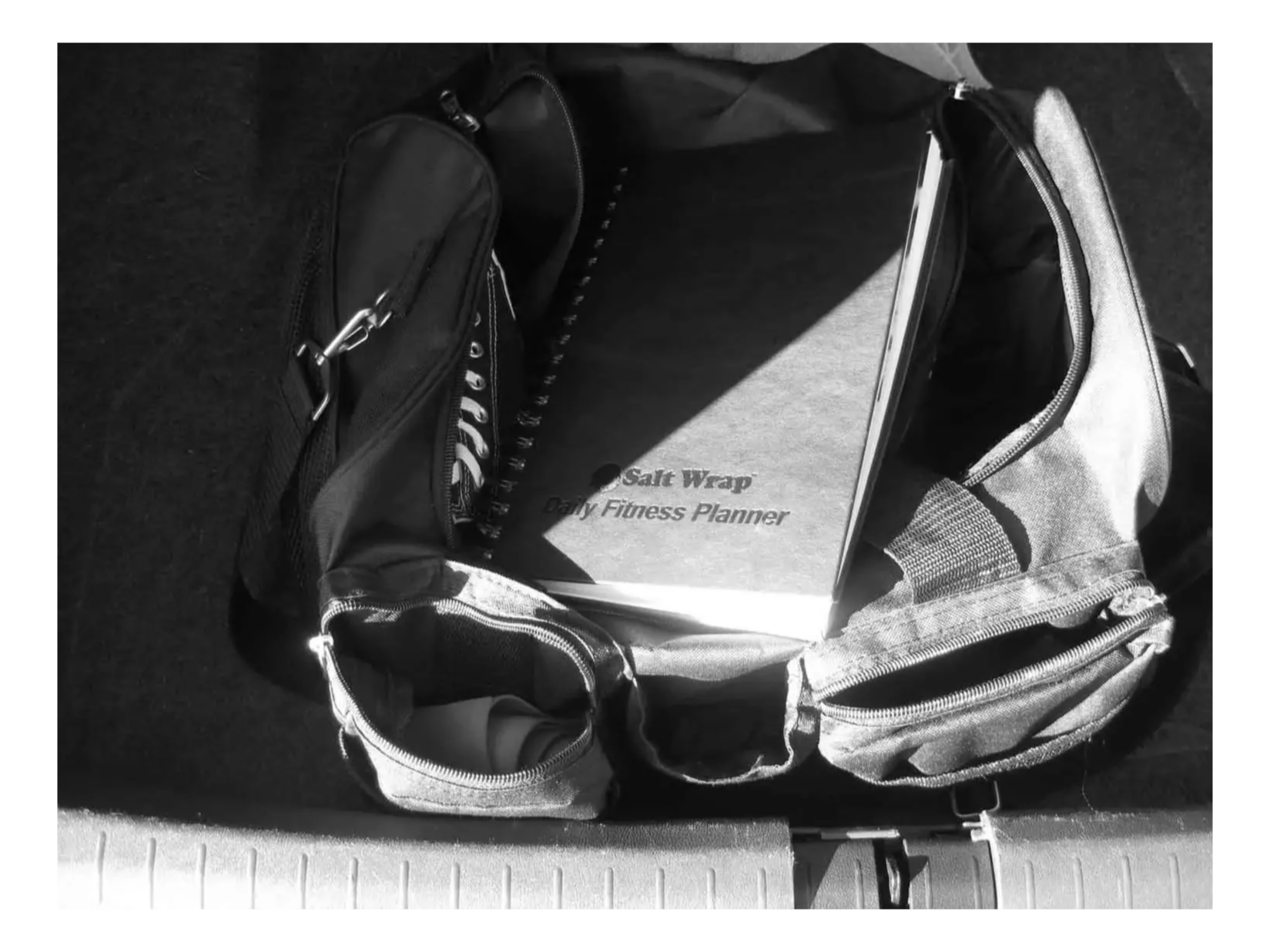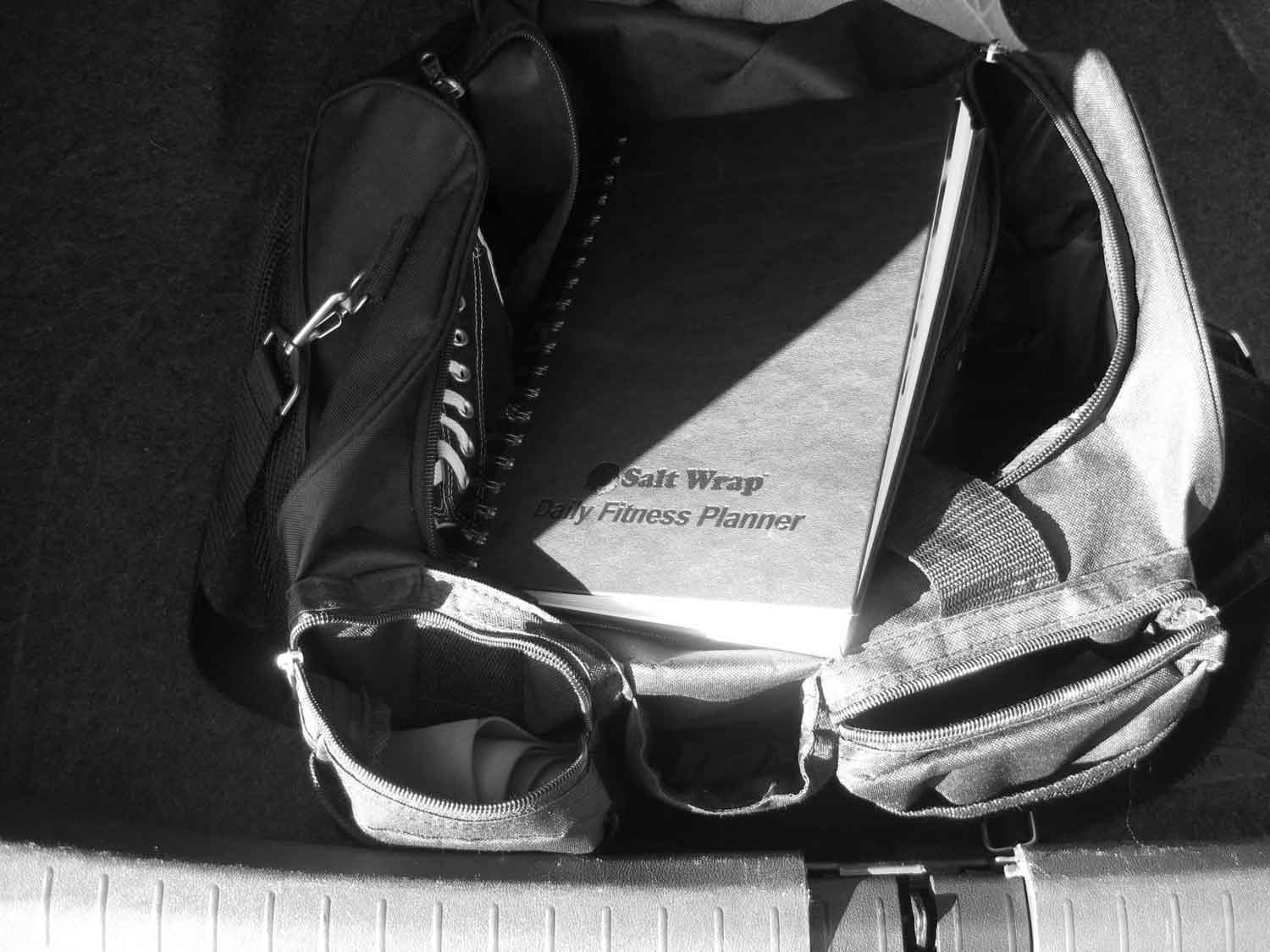 Why not just track all this stuff in a regular notebook?
Or spreadsheet on the computer?
Or an app on your phone?
Because these tools can become obstacles.
But this planner has no distractions.
It's your focused, dedicated space for tracking, measuring, analyzing, and becoming better than you were yesterday.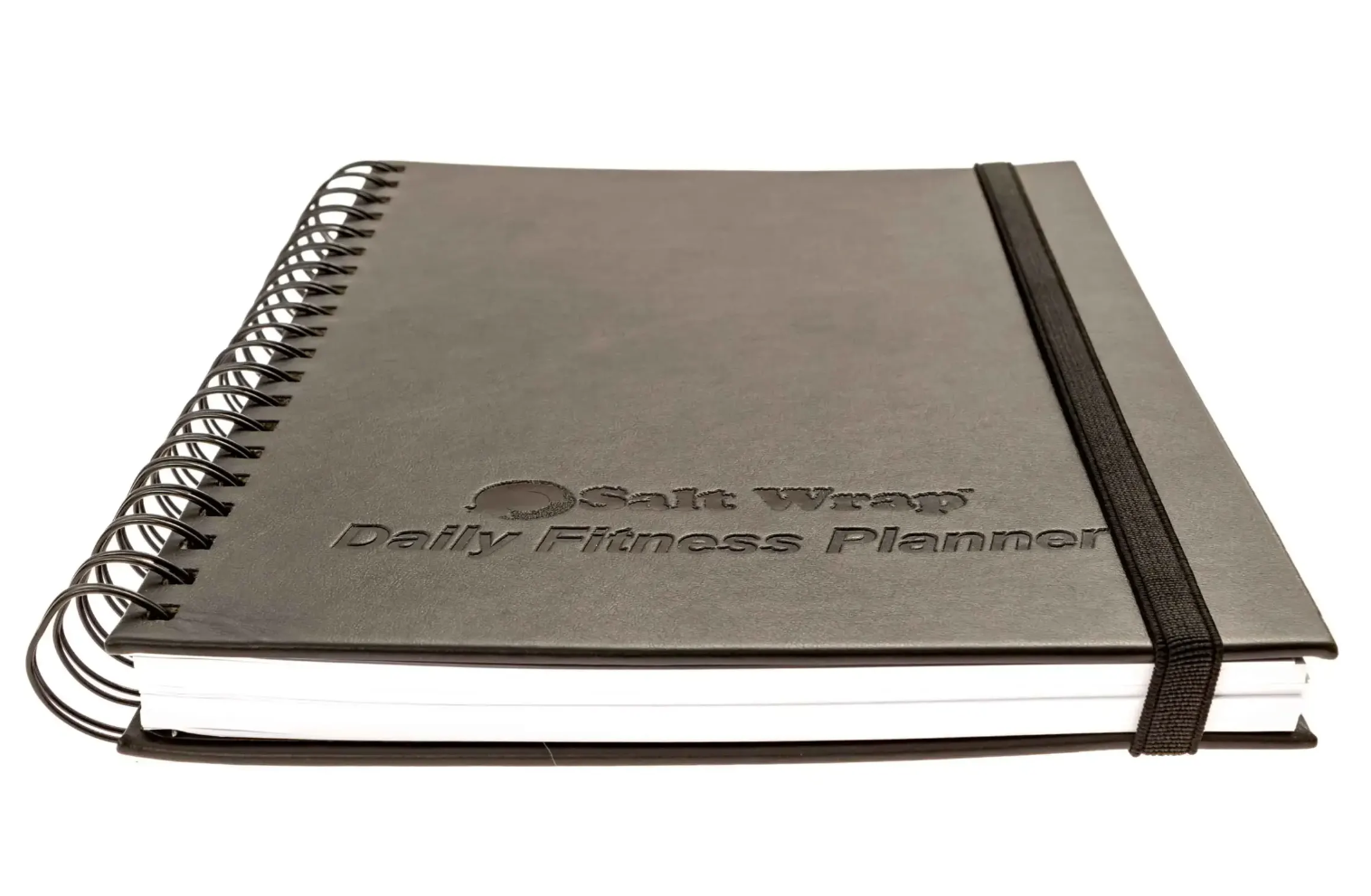 It's your dedicated space for tracking, measuring, analyzing and becoming better than you were yesterday.
If fitness is important to you.
If your health is important to you…
If you spend time and energy focusing on it…
Then it deserves its own space. Away from the rest of the world. Away from social media, text messages, personal obligations, doctor appointments, and the rest of our messy lives..

This planner is your dedicated space for fitness improvement.
It's a planning tool, tracking template and database of what works and what doesn't. It's your personal accountability partner. And a way for you to ensure that you are always pushing yourself to be better than yesterday.
Whether you're starting a new program, or you're an experienced physique competitor—the SaltWrap Daily Fitness Planner will push you to greater heights.
If your progress has stalled in the gym. Or you aren't losing weight. Or you aren't getting stronger.
This can help you bust through the plateau.
The Daily Fitness Planner combines ease of use with superior quality design:
Easy to use

— Daily and Weekly templates

Customizable

— track only what suits you

Economical in size

— 7" x 10"

Durable

— Spiral binding, with a flexible cover and 80 GSM thick pages


(go ahead, throw it in your gym bag)

Historical reference

— easily refer to past entries

Minimalist page designs

— fill out in just minutes per day

One visual snapshot

— see your entire day in one view


HOW IT WORKS
The planner contains 16 weeks' worth of daily and weekly pages (280 pages).
You'll complete the Daily Pages each day.
And you'll complete the Weekly Review pages every 7th day.
This process starts over each week, and continues for 16 weeks.

Weekly and Daily Codes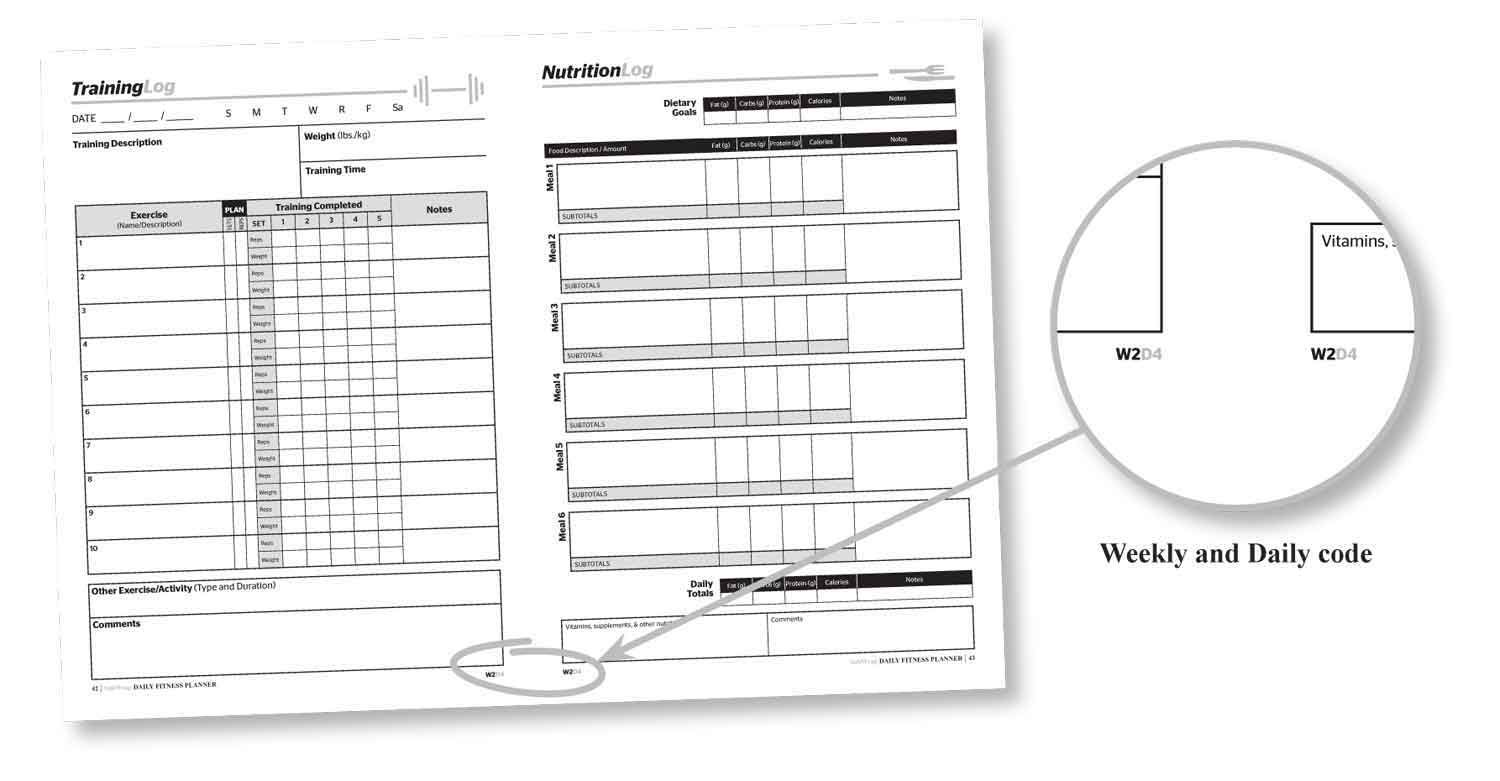 Each page is numbered separately throughout the planner, and we've added a Weekly and Daily code to each page to serve as a historical reference.
For example, W2D4 refers to Week 2, Day 4 of your planner.
This reference code will allow you to quickly gauge where you are at in your training cycle, and make it easier to refer back to later.

Daily Pages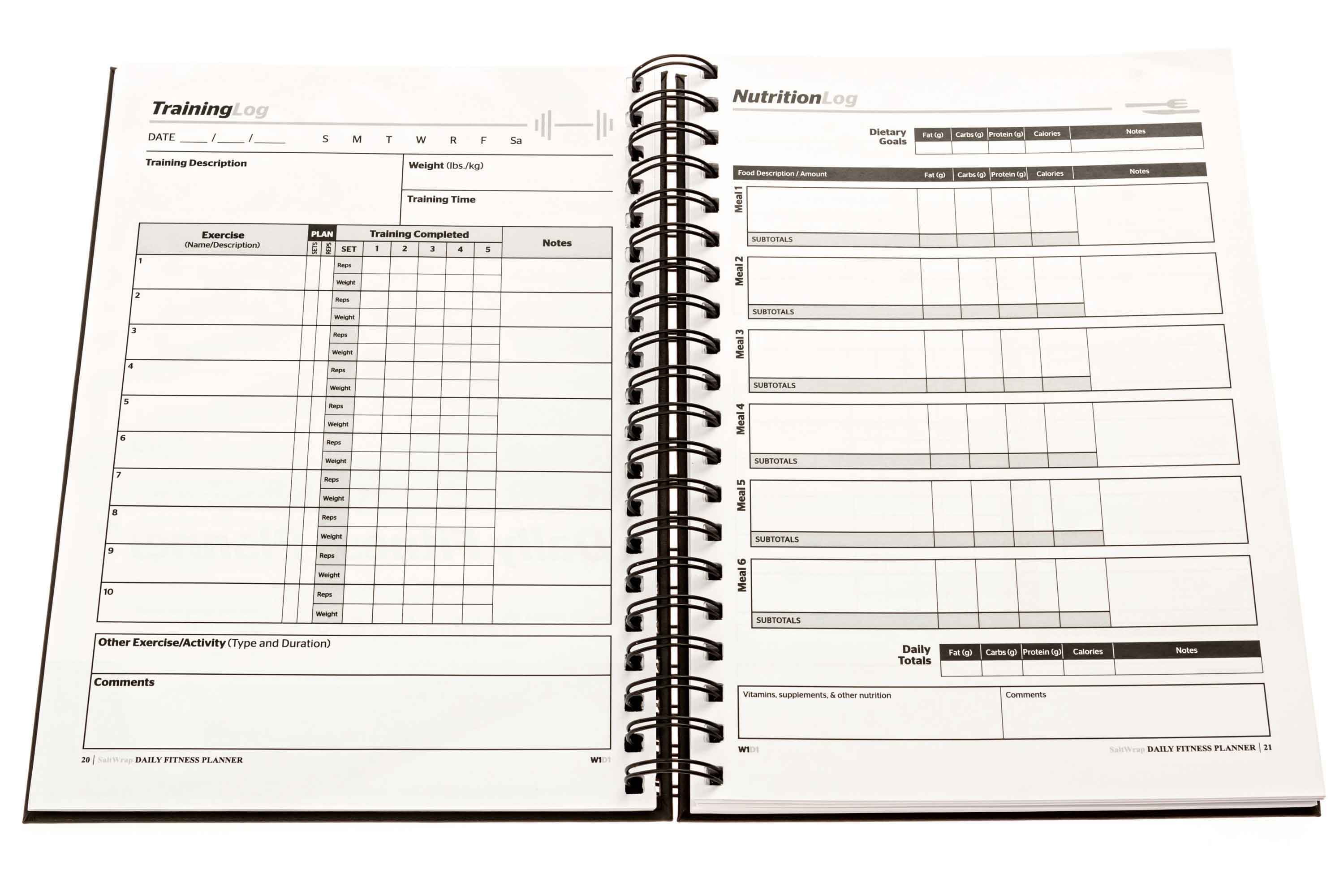 The daily Training Log (left side of page - see infographic above) allows you to track all exercise activity, with a focus on resistance training or circuit-style training (where exercises are completed for repetitions or time).
Before starting your training session, fill out the Exercise Description and Plan fields. Following your workout completion, fill out the actual sets/reps/weight in the Training Completed section. And jot down any notes relevant for each (such as rest time or proper form notes).
The area at the bottom of this page provides room to write down other types of exercise you completed that day, and make comments regarding your training session.
The daily Nutrition Log (right side of page - see infographic above) provides space to track virtually everything nutrition related. You have the freedom to track as much or as little as you see fit.
You may want to track all calories and nutrients, or simply keep a log of the types of food you ate. If you're following a plan that requires to you consume a specific amount of fat, carbohydrates, protein, or calories—list those benchmarks at the top of the page next to "Dietary Goals".
There's also space to write comments on each meal, which you can use to track other things (fluid intake, sugar, fiber, etc).
Use the comments box to write out any ideas, variations from your plan, or thoughts about the day's intake.



Weekly Pages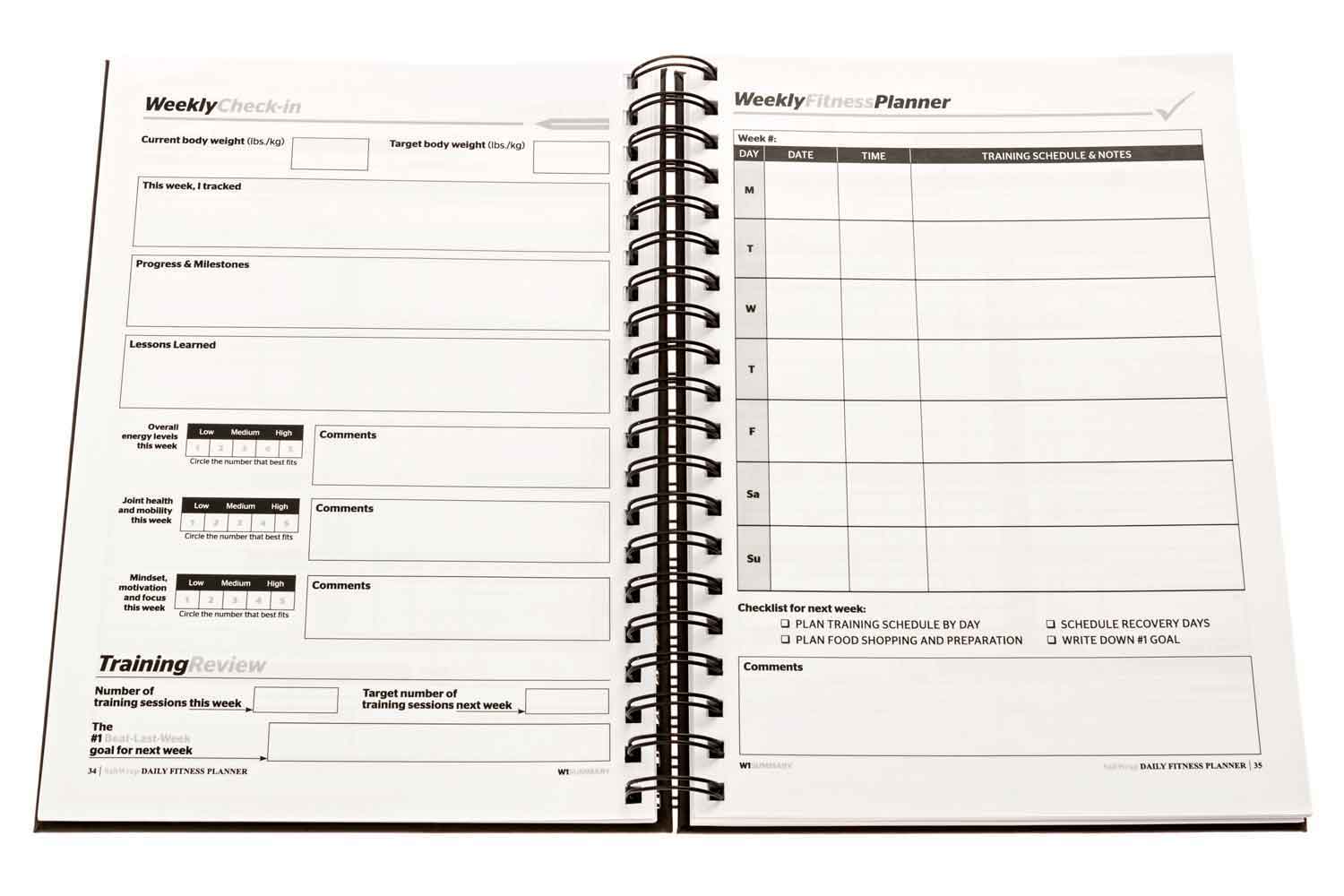 Did you set any personal bests this week?
Did you move closer to your goal?
Is your training program sustainable?
Have you identified any diet pitfalls?
The Weekly Check-In also asks you to rate your energy levels, joint health, and mindset each week (left side of page, infographic above).

Think of this section like the dashboard on your car... You shouldn't just care about what the speedometer reads (i.e. how fast you are going).

You should also focus on the health of your vehicle (body), and make corrections when necessary to keep it running smoothly.
The Weekly Fitness Planner is your designated fitness planning space (right side of page, infographic above).

Go ahead and write down personal appointments in here if you want, but make sure you use this space to prioritize your fitness plan for the week.

This allows you to make training and sound nutrition a priority—even if your life is hectic.

If nothing else, use this space to quickly write down when/where you plan on training in the coming week. And write a quick summary of what you plan to do. The checklist at the bottom of this page ensures you are planning, preparing, and focusing on the right things.
Seem like a lot of work?

It's really not.
The Daily Pages only take a few minutes to complete.
The Weekly Pages even less (but they're critical to the success of the system... regularly reviewing your progress is key).
Filling out the planner is a breeze. It's intuitive. Easy to fill out. All you have to do is follow along and track as you go. While it might seem like micromanagement... it's actually freeing.
You don't have to constantly worry if you are eating right.. or if your workouts were good enough. You'll have a concrete record of it that you can revisit anytime you want.
If you constantly stress over what you eat and when you'll exercise next... this planner will actually REDUCE your stress levels.
Which we think is important. Fitness is supposed to be enjoyable. Healthy. And this planner helps you realize that.
Sure, it pushes you to be better... but it also allows you to SEE your progress. Making the whole thing more enjoyable, and motivating you to do better next time. Even if you don't plan on tracking EVERYTHING you eat/do for the rest of your life (we don't recommend that, btw)..
You'll learn a lot about yourself when using this planner.
You'll learn what your weaknesses are.
You'll also learn about your strengths.
You'll learn how to quickly gauge a meal's nutrition content.
And which exercises give you the biggest bang for your buck.



Dimensions & Specs
Contents

: Daily Training Log, Daily Nutrition Log, Weekly-Check in, Weekly Fitness Planner, Goal Tracking Templates

(Body Measurements, Strength & Performance)

Size

: 7" x 10" (3/4 inch thickness)
​

Length

: 280 pages (16 weeks)

Cover

: Black Leatherette, Matte, black felt interior

Binding

: Spiral bound, 80 GSM thick fountain pen paper, white pages

Extras

: Elastic book strap for safe-keeping, page marking
Ready to get started?
And take your fitness tracking to the next level?
Click "Add to Cart" and order your Daily Fitness Planner today.
---

Verified Customer Reviews